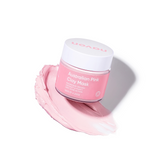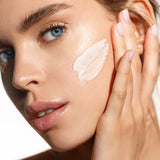 Australian Pink Clay Mask 120g
Our Pink Clay Mask is a luxurious and nourishing treatment for your skin. Infused with magnesium, this mask helps to detoxify and rejuvenate your complexion. The pink clay is gentle yet effective at removing impurities, while the magnesium works to soothe and calm irritated skin. 
Packed with Potent Antioxidants
Detoxifies and Brightens 
Helps draw out impurities and toxins
Vegan & Cruelty free
Risk-free lifetime money back guarantee  
Apply clay mask. Leave it on for 8-10 mins or until it dries out. When rinsing with water, gently massage the clay over your skin. The pumice will remove dead skin cells and improve blood circulation. Pat dry - Admire your glowing skin!
Active Ingredients
Kaolin, Aqua, Bentonite, Magnesium Chloride, Aloe Vera, Witch Hazel, Allantoin, Chlorella, Lactic Acid, PEG-100 Glyceryl Stearate, Isododecane, Phenoxyethanol, Dipotassium Phosphate, Polysorbate 80, Rosmarinus Officinalis (Rosemary) Leaf Extract, Xanthan Gum, Vitamin C, Retinyl Palmitate, Acrylates Copolymer, dl-alpha-Tocopheryl Acetate (Vitamin E), Propylene Glycol, Lactic Acid, CL 77491.
Customer Reviews
07/07/2021
@jasminehendriks
love this mask so much!!!!
My skin is feeling fresher than ever with @navunskin pink clay mask
oming into the working week with fresh skin @navunskin big love!
I feel clean, fresh and my skin feels like its been deep cleaned. Skin feeling very light and all the dirt being extracted. Even if I didn't apply moisturiser after the mask, I don't feel dry. It feels nice and moisturised.
brillant face mask..best 1 i have had so far improving my scars and skin love it
Brilliant product that comes in a little cheaper than other similar products without compromising on quality. Really cleanses and leaves complexion smooth and radiant. Dries out spot outbreaks and keeps face clear from further breakouts with regular use.
I really like this product. Packaging is pretty, easy application, washes off fairly easily. It leaves my skin super soft.
Such a cute pink, i love clay masks. This one made my face feel so soft afterwards and didnt get super flaky like some of them do. definitely recommend!
LET ME TELL YOU- this stuff is amazing. If you're looking for soft, clear skin, this is the product for you. I love it so much. I have incredibly sensitive skin, and it doesn't burn me or make my cheeks red like every other mask I've ever tried does. The clay really pulls the hunk out of my pores, and that's an issue even my aesthetician has had trouble with! It reduces the looks of fine lines (in the forehead especially! (I should note, I am 26 and just starting to get lines, so I'm not sure what it would do with older lines- but I'd still recommend the purchase to see!)) and I'm in love. I only use it once every 1-2 weeks but after three+ uses, I haven't been disappointed. I highly recommend this to anyone looking for something else to add to their beauty routine.
It's really works when it comes to cleaning out your pores. You can see you face brighten up right after using it.
Woow that is what I could say . My skin look wonderful after using it . I have dermatitis so I wasn't sure about buying and using it but is really good with my skin and I using how say twice a week. Definitely you won't regret.
I use this mask fortnightly and every time I feel my skin radiant! Very happy with my purchase.
loved it & went & ordered a 2nd one. Love u get to support a great thing aussie product fast delivery in 2020 covit19 times
I suffer adult cystic acne prone skin. My skin is so sensitive to any skincare and as a result I've had to search for the most natural skincare with minimal ingredients. This has just two!!! And is Aussie! My skin swallowed this mask up - I saw the pores open up with this on and my skin is glowing after use. It's completely divine to smell and have on the face too. I've come back to order a second while on sale as I know this will now be my staple skincare product!!
I have dry and aging skin and have tried many clay masks. These have resulted in even dryer and irritated skin. Itchy and rashes. This product is amazing. It gently cleanses my skin leaving it clean and soft and feeling rejuvenated. It works exactly as described and is a far superior product to many of the other inferior products out there. I will now always use this magnificent product. Thank you
03/18/2021
@lauren.grogan
This lockdown news has me doing a self-care night.. because I now have nothing better to do and all my weekend plans are out the window! Glad I got my beach fix in beforehand. Hair mask in, @navunskin pink clay face mask on.. already feeling more relaxed ✨
it felt so nice! I really like the creamy texture xx
11/24/2020
@ittybittytittty
This brand gets my tick of approval, it's vegan, cruelty free and all their packaging is from recycled materials. The thing I love about @navunskin is their pink clay mask didn't irritate my sensitive skin. If you're feeling like a pamper and to rehydrate your skin this is where my recommendation is at. Each product purchased will plant one tree #